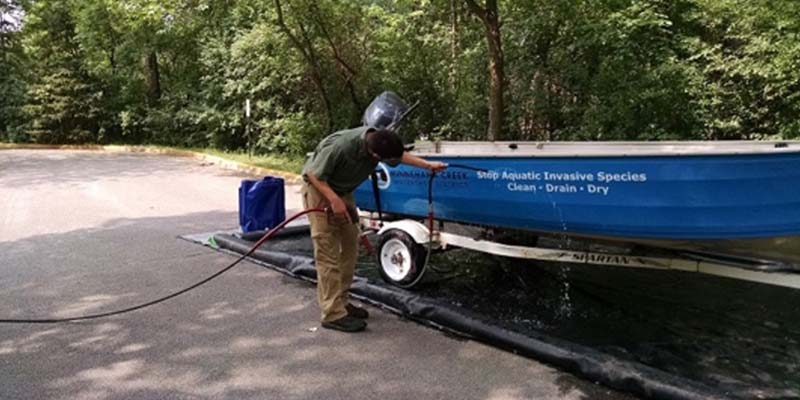 The crisp weather signals the approach of winter, which means it's time to start storing boats, docks, lifts, and other water-related equipment until spring. Unfortunately, the movement of docks and equipment is a common way for aquatic invasive species (AIS) to spread. Here are some tips to make sure it doesn't happen to you!
Inspect and Clean
Carefully inspect everything to make sure there are no aquatic invasive species (AIS) such as zebra mussels attached. Look on the posts, wheels, and underwater support bars of docks and lifts, as well as any parts of boats, pontoons, and rafts that may have been submerged in water for an extended period. In newly infested waters, adult zebra mussels may not be abundant and you might notice only a few mussels on your equipment. They can also be very small, so be sure to look closely!  Docks and lifts stored outside over winter will expose AIS to freezing conditions and kill them.  Be sure to clean off equipment in the spring, including all vegetation and mud, before placing back into the water.
Minnesota law requires lake service providers – anyone hired to install or remove water-related equipment including structures from bodies of water – to undergo training on preventing the spread of AIS. The providers will have a yellow sticker displayed on their vehicle and their permit within.  The DNR provides a list of permitted providers.
Obtain a Permit for Transporting Watercraft and Equipment
Because it is illegal to transport any watercraft carrying AIS away from a body of water, even to storage, boaters in this situation must obtain a one-way permit from the Minnesota Department of Natural Resources. The permit allows boaters to legally bring their boat to a decontamination station and then to storage.