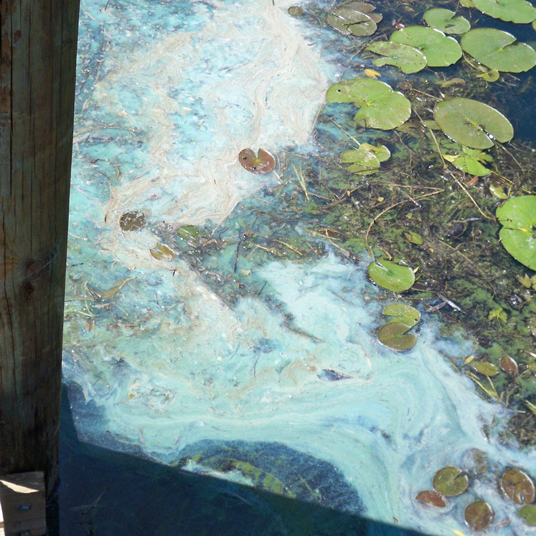 The lakes and streams in the Minnehaha Creek Watershed District offer beauty, open space, and numerous recreation opportunities. But because many of the lakes and streams in our watershed receive stormwater runoff from both urban and agricultural land, the water can sometimes harbor harmful bacteria. As we head into the deep heat of summer, it's useful to know what you may encounter when you are out on the water so you can protect yourself, kids, and pets.
The most common type of harmful bacteria that you'll find in the lakes and streams in our watershed is E. coli. Both Minnehaha Creek and Painter Creek are impaired for E. coli, so we recommend caution when swimming or paddling to ensure you don't accidentally swallow contaminated water. Other healthy swimming tips include taking a shower before and after swimming, taking kids on frequent bathroom breaks, changing diapers in changing rooms, picking up pet waste, and washing your hands.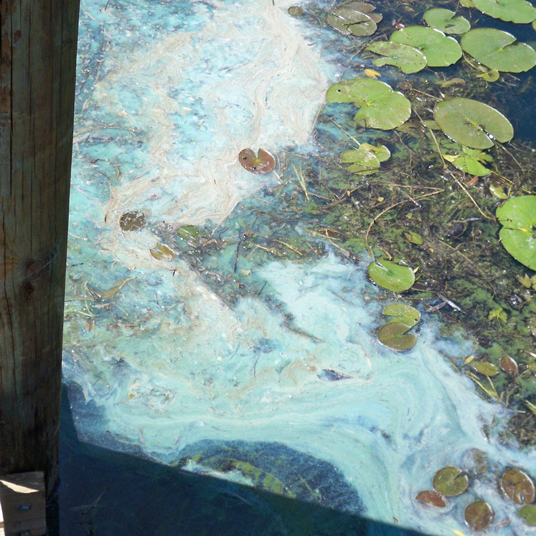 To further protect yourself, we recommend staying out of Minnehaha Creek and Painter Creek for at least 72 hours after rainfall. During storms, rain washes dirt, debris, nutrients, and waste off the land and directly into lakes and streams. As this stormwater flows through the system and downstream, there tends to be a higher chance of accidentally getting sick.
Something else to watch out for, especially during the dog days of August, is blue-green algae. Blue-green algae is actually a type of bacteria that produces toxins that are harmful to people and animals. When the water conditions are right, blue-green algae can bloom and cover areas of the water in a thick, dense mat. It is generally found in lakes, ponds, and slow-moving streams.
Typically, blue-green algae can become most severe when there is little wind, abundant sunlight, warm water, and high amounts of nutrients like phosphorus and nitrogen, which are main components in stormwater runoff that flows into lakes and streams. Blooms of blue-green algae look like green paint or pea soup. Contact with it can be fatal to pets and can make people, especially children, sick. While there are types of harmless green-colored algae, it's best to stay out of the water when in doubt to protect yourself, your kids, and your pets. Remember, when in doubt, stay out!
Before heading to your favorite beach, check Hennepin County's public swimming beaches page to view a map that shows beach closures. County and local agencies regularly test water at beaches for E. coli and will close a beach until levels meet human health standards, as we saw at Lake Minnewashta Regional Park Beach in Carver County earlier this month.
While enjoying our abundant water resources can be a fun and relaxing way to get outside and soak in the summer weather, it's important to practice healthy swimming habits and to take precautions after rainfalls.