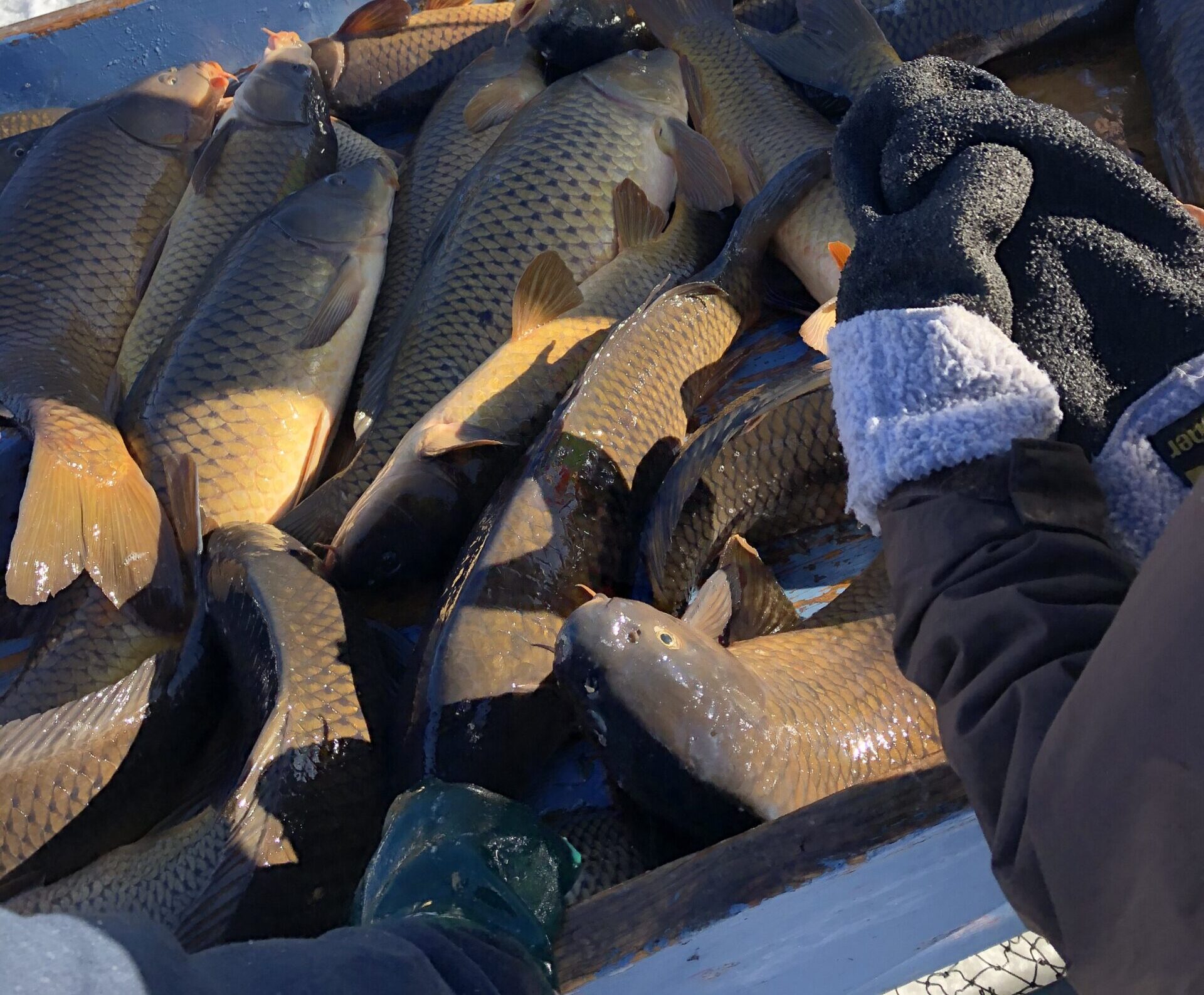 In the Six Mile Creek chain of lakes, the Minnehaha Creek Watershed District and its partners have been hard at work reducing the number of common carp that are in the system. This is one of the metro's largest habitat restoration projects, funded by a $567,000 grant from the Lessard-Sams Outdoor Heritage Council. The focus of the restoration is the Six Mile Creek – Halsted Bay Subwatershed, which is the headwaters of Lake Minnetonka and includes five impaired lakes and Halsted Bay, Lake Minnetonka's most degraded bay.
We are focusing on invasive common carp first because of the damage they cause and the availability of proven, cost-effective management strategies to control their numbers. Common carp uproot plants and stir up lake bottoms, which degrades habitat and releases nutrients that feed algae blooms. Reducing their numbers in lakes can help protect water quality and improve habitat for gamefish and waterfowl.
The carp management plan is based on data from a three-year study by the University of Minnesota's Aquatic Invasive Species Research Center. The research team assessed the number of carp in the Six Mile Creek chain of lakes, identified their spawning locations, and determined their migration patterns. The findings helped shape a management strategy that includes removing adult carp, installing carp barriers, and aerating lakes to ensure the winter survival of bluegill sunfish (which feed on carp eggs).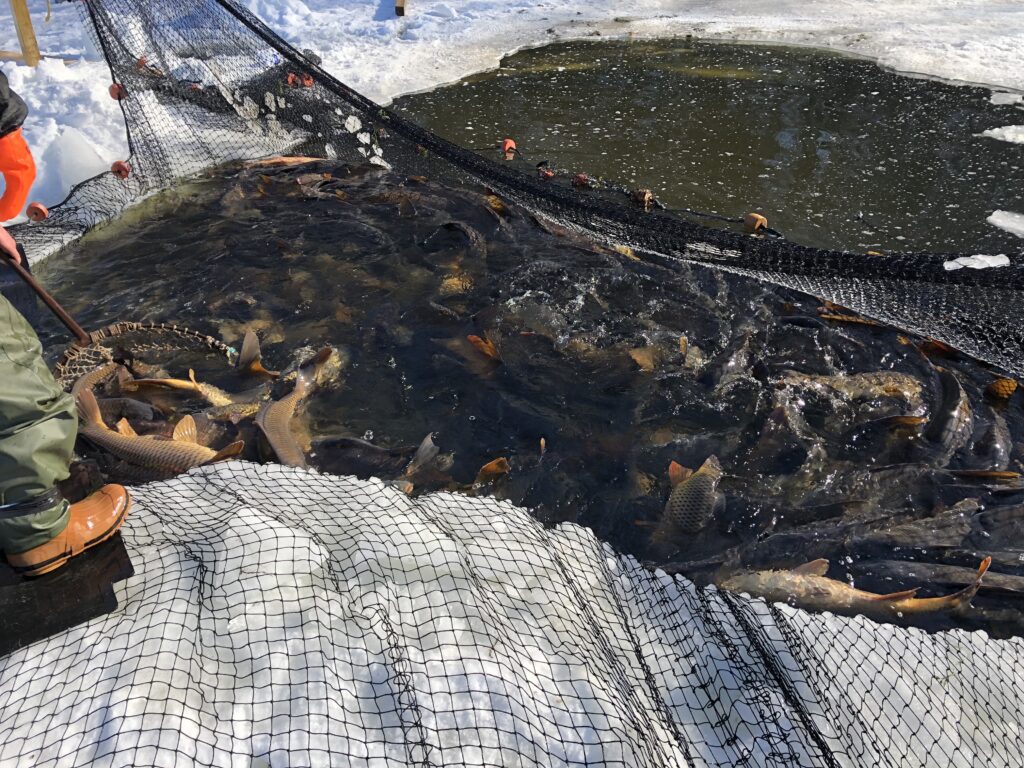 Staff remove adult carp using baited box-net traps, which as been successful on East and West Auburn and Steiger Lakes. When the weather is colder, carp move to deeper water. In order to track their movements, staff have been electrofishing on lakes, implanting radio tags into the carp that are caught, and releasing them back into lakes. The radio-tagged carp aid our carp removal efforts in the winter months. MCWD has also installed carp barriers, which block carp access to spawning locations. There are three barriers up: one at Highland Road east of Mud Lake, one north of Crown College Pond, and one north of Wassermann Lake.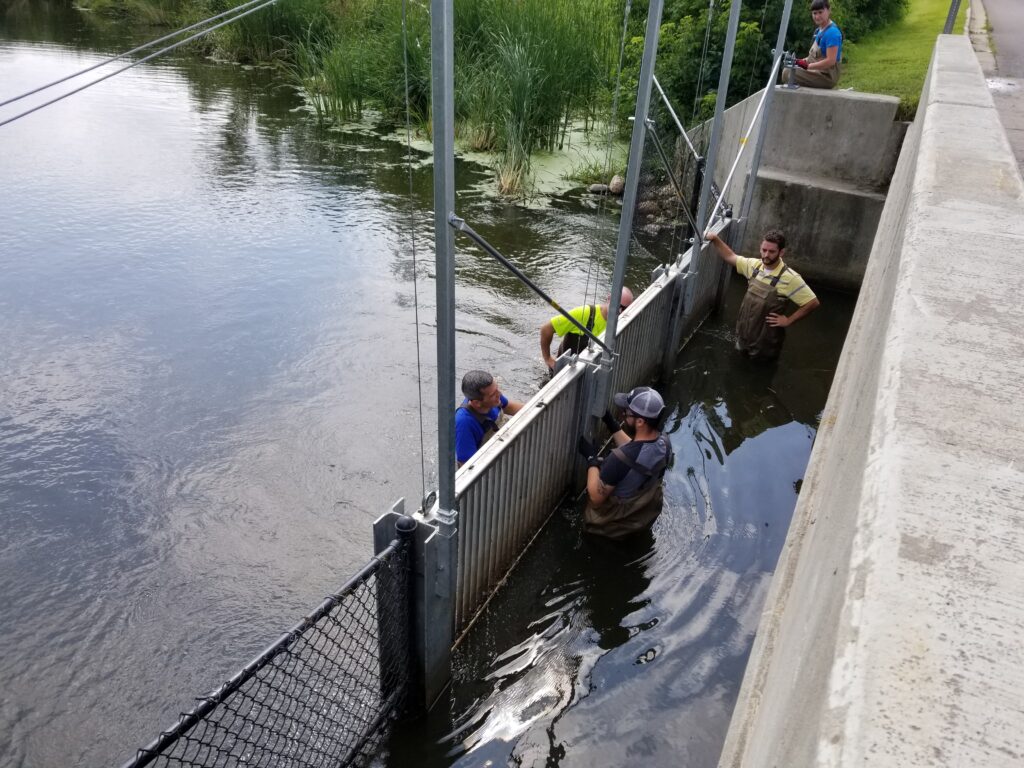 Managing carp is just one strategy in a multi-pronged ten-year effort to improve water quality in the Six Mile Creek – Halsted Bay Subwatershed. We are focusing on this area because of the unique opportunity to protect and improve water quality while the land use is changing. We are working with a multi-jurisdictional partnership made up of the Minnesota DNR, Carver and Hennepin Counties; Laketown Township; the cities of Minnetrista, St. Bonifacius, Victoria and Waconia; and Three Rivers Park District to coordinate our goals early so that changes on the land are planned in a way to also benefit water quality. This type of proactive collaboration is innovative in the world of land use and water planning, and we hope it will serve as an example of how partnership and early coordination can create thriving communities that protect ecological integrity.