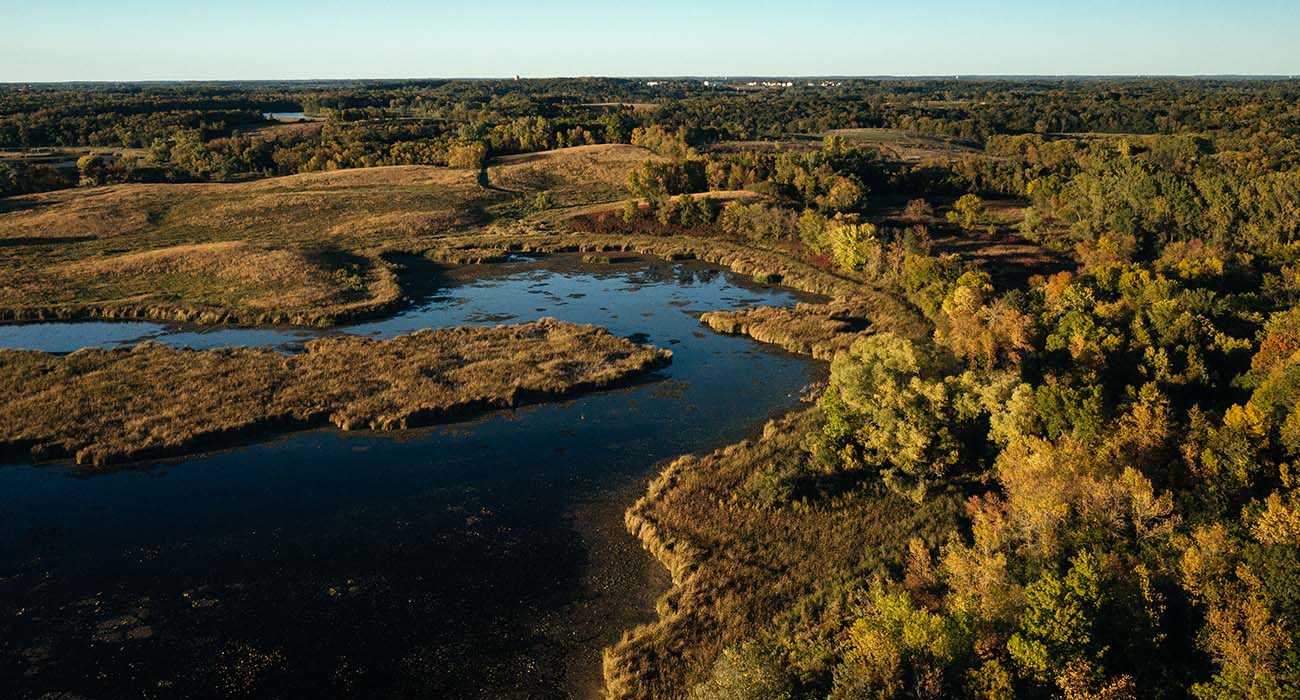 In some years, the Minnehaha Creek Watershed District (MCWD) opens Gray's Bay Dam at the outlet of Lake Minnetonka when there is more than a foot of ice on the lake. We take this proactive measure because rain, snow and ice melt from Six Mile Creek and the other creeks draining into Lake Minnetonka raise the lake's water level. Releasing water ahead of ice-out counteracts some of the water coming into Lake Minnetonka and prevents flooding on Minnehaha Creek.
MCWD operates the Gray's Bay Dam in compliance with an operating plan approved by its communities and the Minnesota Department of Natural Resources. The goal of the plan is to prevent water levels in Lake Minnetonka and Minnehaha Creek from becoming too high or too low.
MCWD also manages water levels by reducing the amount of water running off the landscape and draining to Lake Minnetonka. We are restoring wetlands, managing stormwater and improving water quality in the Six Mile Creek – Halsted Bay Subwatershed, which is the headwaters of Lake Minnetonka. The benefits of this multi-pronged, ten-year effort will flow downstream, helping to create positive change throughout the watershed.
Part of this work is based on a federally-funded climate resiliency study that was done in partnership with the Cities of Victoria and Minneapolis. The study used climate and hydrologic modeling to assess Victoria's vulnerability to flooding due to rainfall and land use changes, as compared to the fully built urban landscape of South Minneapolis. The work also included a community-driven planning process for building capacity to adapt to the more frequent, extreme weather events associated with climate change.
The climate resiliency study looked at worst case scenarios and helped City of Victoria planners understand what adaptations might be needed as the city continues to develop. The study reaffirmed the need for the city to continue to preserve the connections between green space, streams, wetlands, and lakes, which can help hold extra water and enhance community resilience.
This strategy is included as part of Victoria's 2040 Comprehensive Plan. Using the plan as a guide, the city, MCWD, and developers will create a connected network of natural areas that will help manage water quantity, improve water quality and habitat, and provide recreational opportunities. MCWD is also working in other areas of the Six Mile Creek – Halsted Bay Subwatershed to preserve and restore wetlands to provide more water storage, slow down water flow, and improve the health of lakes and streams.
Our focus in the Six Mile Creek – Halsted Bay Subwatershed will ensure that as this region develops, natural resources are protected and restored. Doing so will help our communities thrive despite the changing climate.